What are the 4 Connections and why do we recommend using them?
We believe that implementing these small but important strategies will empower educators to build relationships that promote both student success and their own success. While you may be using strategies similar to these, the goal is to move from intuitive practice to intentional practice. We also believe that the 4 Connections are an inclusive pedagogy, creating a supportive environment, and giving all students equal access to learning.
Connection 1: Interact with Students by Name
Learn your students' names and begin using them on the first day of the class and throughout the quarter.
How to do this when you're on campus:
Name plates – provide paper (grab some 8.5 x 11 paper from the recycling bin that's only printed on one side) OR cut up old file folders. Students create their own name plates on the first day of class. When folded they stand up on their desks in the classroom. Collect at the end of class and have students pick them up at the beginning of each class.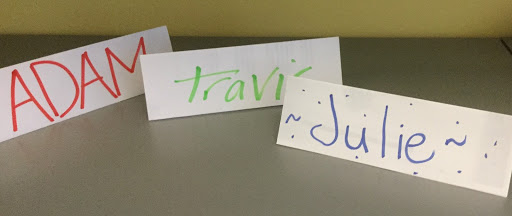 Introductions – Create a discussion forum in Canvas and require students to introduce themselves and replay to other introductions (or make time to do this in class). Ask a colleague – How do you learn student names and how do you help students learn each other's name?
How to do this when you're online:
Canvas Profiles – ask students to create their profile in Canvas. Make sure that your own profile is up to date!
If you are using Zoom for your courses or office hours, make sure students' names are appearing on their individual "tiles" that you see (and let them know they can rename with their preferred name or nickname and their pronouns). Also ask students to use their image instead of an avatar so when we are back on campus you'll recognize them!
Connection 2: Check-In and Support Students (all the time)
Pay attention to student behavior and track student progress. Empathize with students ("I'm really exhausted today, too, so let's make the best of this class together today.") When a student is struggling, intervene. Make sure you know what resources are available for students. You can find many of them on this Online Student Support page.
How to do this (either f2f or online):
Formative assessments are a great way to check-in to potentially modify teaching and learning activities, and will help to improve instruction by incorporating student feedback.
Formative assessments typically involve qualitative feedback, but could include quantitative feedback (but that's more like a summative assessment – a quiz or test).
Formative assessments should be administered throughout the quarter as a way to modify when necessary.
Formative assessments are for learning, and students can self-monitor their understanding and the learning process. As an example, at the end of a class ask students to summarize the main points of the lesson that day (Minute Paper).
Instructors can use the results of a formative assessment to check for understanding and adjust their teaching the following day to better support student learning. After reading the results of the Minute Paper, you can determine what portion of the class was able to correctly summarize the main points.
Connection 3: Schedule One-on-One meetings with Students
At the beginning of the quarter and throughout, schedule one-on-one meetings with students.
When you are on campus, you will find that many students don't use your office hours (or even know what office hours are for!) and they may not use the extra time you are available both before and after class to answer questions. Most likely, the only time students remember having to go to a teacher's office was when they were in trouble! So naturally there's a negative connotation to office hours. Some students may be intimidated by the thought of going to a teacher's office, thinking you will judge them for not being very smart if they have questions. These are real concerns that students have!
Developing a relationship with students takes time, so building in one-on-one meetings with students helps to break down some of the fears students may have. In these conversations you can also find out how a student is doing individually.
How does this work (f2f and online):
Set aside some time during each office hour for short visits by students (let's say 15 minutes) to ease into the one-on-one conversations. Many faculty have found that a Zoom meeting that is not called "office hours" but rather "a check-in" means it's more likely students will show up. Consider using check-in times as a way to see how students are doing not just in your class but in life.
Some ideas for meeting with students:
Q&A Form: for each meeting, provide students in advance with a list of questions you might ask during the meeting. Provide some space on this paper for them to jot down notes, and ask them to bring one question for you. Have them bring this form to their meeting with you.
Project Process: Build a meeting as part of a project. This could be a planning meeting to help students get started if they have never done a project before, or a status report midway through the quarter, or a review at the end of the quarter.
Scheduling Meetings: Have a sign-up sheet posted in your classroom, or create a Canvas page that is editable by you and the students. List the time slots that are available and have students add their name next to the time that works best for them.
Connection 4:Practice Paradox
Structure your course clearly. Communicate your high expectations frequently. And then, when life happens, be reasonably flexible when students come to you with concerns. There are a lot of ways to support students without compromising rigor. We love the Transparency Framework and Universal Design for Learning! Trust is the key element of relationships that promote success. Practicing Paradox allows educators to establish trust with students through clear, high expectations. The Transparency Framework provides a tested and effective way of designing assignments that increase student success without compromising rigor.
Another way of saying this is High Expectations/High Support.
References
Connection 1: Interacting with Students by Name
Cooper, K.M., Haney, B., Krieg, A., & Brownell, S.E. (2017). What's in a name? The importance of students perceiving that an instructor knows their names in a high-enrollment biology classroom. CBE Life Sciences Education, 16(1). https://www.ncbi.nlm.nih.gov/pmc/articles/PMC5332051/
Igwe, N. (2016). Getting students' names right: It's personal. Faculty Focus. Retrieved from https://www.facultyfocus.com/articles/teaching-and-learning/getting-names-right-personal/
Korbey, H. (2017). The power of being seen. Retrieved from https://www.edutopia.org/article/power-being-seen?utm_medium=socialflow&utm_source=twitter
O'Brien, M.T., Leiman, T., & Duffy, J. (2014). The power of naming: The multifaceted value of learning students' names. QUT Law Review, 14(1). https://openresearch-repository.anu.edu.au/bitstream/1885/31373/2/01_O'Brien_The_Power_of_Naming:_The_2014.pdf
Connection 2: Check-In Regularly
Pay attention to student behavior and track student progress. When a student is struggling, intervene. If you believe that the student is struggling with homelessness, depression, food insecurity, or many of the other issues that have come to light during the pandemic, consider filing a BIT report. This can be found on the College Intranet.
Formative Assessment
Formative assessment can be summarized this way:
A check-in used to potentially modify teaching and learning activities – Improve instruction and incorporate student feedback
Typically involves qualitative feedback
Administered throughout a unit or course
Assessment FOR learning – Students use the results to self-monitor their understanding and learning process. Instructors use the results to check for understanding and adjust teaching to better support student learning.
Example Minute Paper: After a class session or a reading assignment, students submit the main ideas that stood out to them and the questions they still have.

Read more to find out why Formative Assessments are well worth the extra effort to support students and their learning – everyone benefits!
Formative Assessment vs Summative Assessment
Three Reasons to Prioritize Formative Assessments in Your Classroom
9 Benefits to Using Formative Assessments
Why Formative Assessment Matters
A Simple Question
During the first week of class, ask students, "What do you wish (more) instructors knew about you as a person or as a student?" This works better as a written submission, in person or via Canvas. Thank you to Tish Lopez from South Seattle College for sharing this idea.
Class Meeting Greeting
This idea is borrowed from our K-12 colleagues. Each day, especially for the first few class meetings, stand at the door (or be present in the Zoom room early) and greet each student as they come into the classroom. Use their name and share a greeting like, "Glad you are here today," or "Thanks for your post to the discussion in Canvas."
Campus Resources
Your college has many resources available for students on campus. One of the best ways to support students, those who are excelling and those who are struggling, is to refer them to these wonderful resources. Even better, walk them to the services, introduce them by name, and help them connect with someone there.
Not sure what those resources are? Find the Student Handbook on the college website or connect with an adviser. Look for programs like TRiO, disability support, counseling, tutoring, and more. Worried about remembering all that is available? No worries! Demonstrating use of the Student Handbook to find information is a great way to model help-seeking behavior to students.
Extra Credit: Schedule brief one-on-one meetings with colleagues from other departments to learn about the support they provide to students.
EvCC Student Resources
The following links are additional resources or tools which do not require login to MyEvCC.
Connection 3: Checking-In Regularly
Assessment and Feedback
Plus-Delta Mid-Quarter Check-In
The following resources have been used by many faculty at EvCC to learn how students are doing mid-quarter, so that faculty can make course corrections to help students be more successful.
PLUS/DELTA Directions
PLUS/DELTA Part 1 for mid-quarter check-ins
PLUS/DELTA Part 2 for mid-quarter check-ins
Student Voice: Value of Feedback
The following video was created by LWTech students and faculty member Jo Nelson. The topic is Validation in Teaching – you'll appreciate that these are real students talking about their learning. Thanks to LWTech for sharing!
Reading Apprenticeship
Connection 4: Practice Paradox
References
Loes, C., Saichaie, K., Padgett, R., & Pascarella, E. (2012). The effects of teacher behaviors on students' inclination to inquire and lifelong learning. International Journal for the Scholarship of Teaching and Learning, 6(2), 22. https://doi.org/10.20429/ijsotl.2012.060207
Lundberg, C., Kim, Y., Andrade, L., & Bahner, D. (2018). High expectations, strong support: Faculty behaviors predicting Latina/o community college student Learning. Journal of College Student Development, 59(1), 55–70. https://doi.org/10.1353/csd.2018.0004
Winkelmes, M.-A., Bernacki, M., Butler, J., Zochowski, M., Golanics, J., & Harriss Weavil, K. (2016). A teaching intervention that increases underserved college students' success. Peer Review, 18(1/2). https://www.aacu.org/peerreview/2016/winter-spring/Winkelmes
Winkelmes, M.-A., Boye, A., & Tapp, S. (Eds.). (2019). Transparent design in higher education teaching and leadership: a guide to implementing the transparency framework institution-wide to improve learning and retention. Sterling, VA: Stylus Publishing.
Comments closed